After exclusively using WordPress for over 10 years on my sites and to build update client websites, I've got a good feel for how great this Content Management System (CMS) is for every level of technological skills.
That includes those that feel like they are technologically challenged.
WordPress celebrated 15 years as an open source content management system in 2018 and is only getting stronger as time goes on.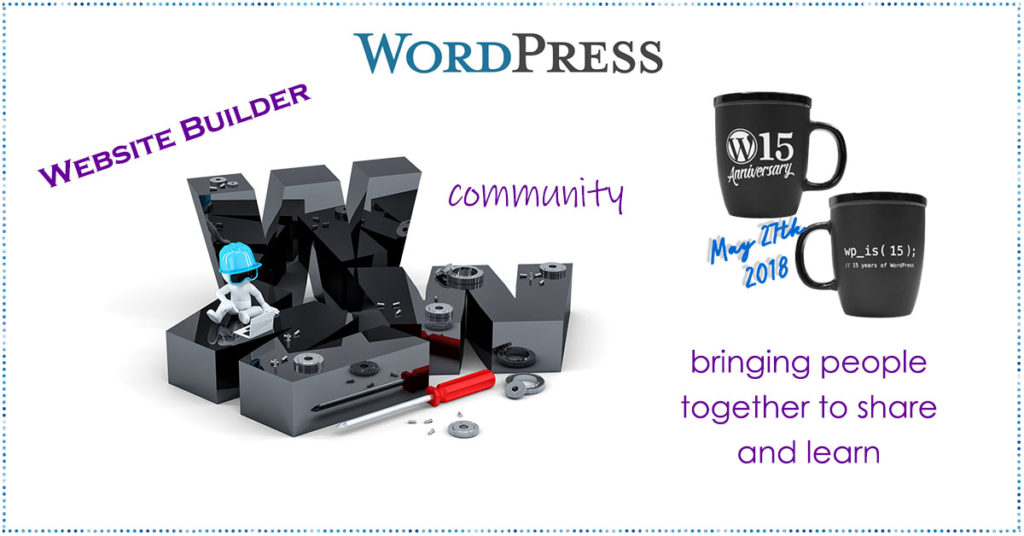 While it originally got it's fame as an easy-to-use blogging platform, the software is now commonly used for websites big and small (see the infographic below for some of the big names that use the WordPress CMS) and offers ease-of-use for the non-techie and backend developer alike…and of course all of those skill levels in between.
The software is top-notch and the ability to use plugins and themes to customize your site means that getting some pretty amazing and functional features on your site is as simple as a few clicks to install and a bit of time adjusting settings.
I could go on about how easy it is to set up a website and how the admin section may take a bit of a learning curve (as it is using any new software), but is fairly intuitive to use.
However, what really sets WordPress apart is the community.
Where to Join the WordPress Community
As a self-taught website designer, I've tapped into that community many times to learn the basics when I was a newbie, and to get some more advanced knowledge in coding changes and theme development as I created websites for clients. And since I was once just a gal that wanted to get an online location for my business and knew nothing about website design, I've been very confident in developing sites and empowering clients to maintain their sites themselves.
Along with the many, many places online that you can chat WordPress, there's also a multitude of live events to take part in. I have attended my local WordPress Meetup in Peterborough, Ontario and enjoyed the sharing, learning and encouragement at the meeting.
What I see as the best part of our live meeting is that we have a small group (from 10-20 people) that are at all levels of WordPress knowledge:
People that are building sites for non-profits that want to know some ways to do it better
People that have a site up for their business and want to learn to do bigger and cooler things with their online location
Folks, like myself, that have a pretty good understanding of building the front-end with WordPress, but eager to learn more of the back-end programming language that controls the functionality and integration with other software
And the folks that are deeply knowledgeable about programming that can offer great tips and concepts that give insight to the big picture of how the internet works – even if the conversation is way too advanced for some to understand
You should definitely get connected to the WordPress community online or live. Go check out the Make WordPress Communities page to learn all about the different places to share and learn about WordPress. And if you've already got a WordPress site, you'll also likely see the local Meetups and bigger WordCamp and social events show up on the WordPress Events and News widget in your WordPress dashboard, so look for that and click through to an event near you!
The other major thing that made me a WordPress devotee is that it is FREE. You'll need to have a hosting account and domain. Through Namecheap, for me in Canadian dollars, it's about $50 a year for a hosting account and $15 a year for a domain.
You can auto install WordPress through Cpanel or install manually, which isn't too difficult, especially if you follow my video and written instruction to set up your website with WordPress through my no-cost Easy Home Business Setup course.
This post contains affiliate links. If you happen to click on an affiliate link and purchase something from their site, those fine folks will give us a wee bit of money for referring you there. This is much appreciated!